Culinary History at Your Fingertips: A New Online Resource Guide
By CHEW Member Karen Dunn
In September 2013, the Friends of the UW-Madison Libraries association hosted an evening to savor, attended by numerous CHEW members as well as the public at large. As part of the festivities, which included cooking demonstrations and hosted exhibits from partnering local foods and culinary history organizations, guest speaker Traci Nathans-Kelly shared her research using cookbook collections as primary source documents to examine the histories of women and their social or regional communities.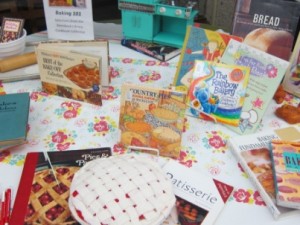 Cookbooks on display at Steenbock Library, September 2013
Cookbook collections have become engaging resources within academic libraries for researchers seeking to understand the 'soup to nuts' of culinary heritage. The Steenbock Library cookbook collection has been used by historians and writers who seek to document an authentic kitchen landscape for a time period or region of study as well as by enthusiastic student and community cooks who look to prepare a contemporary meal or to rediscover the satisfaction in "putting up" the harvest from their gardens.
In keeping with these abiding interests, I decided to create an online, library research guide to "Cookbooks, Culinary Arts and Culinary History."  This guide, which can be found from the UW-Madison Libraries' site menu to "Research Guides" or directly from the link included below, opens to a page featuring information about the Steenbock cookbook collection, links to digital collections with cover-to-cover treatment of selected cookbooks from this collection, and links, as well, to the digital collections from cookbook collections held by archives and libraries, nationally.
Famous for his Fudge Bottom Pie, Carson Gulley served as a chef at UW-Madison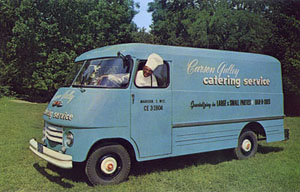 from 1927 until 1954. His publications are presented in the Carson Gulley Cookbooks digital collection, part of Steenbock Library's online culinary history resource guide.
Tabs from the research guide enable the user to navigate to open-Web and to library-licensed resources for finding articles, books, blogs, recipes and the cultural and social institutions and organizations hosting opportunities to engage with local foods and culinary history. While there are links to resources nationally, the larger emphasis is upon linking to resources of regional interest and access.  As off-campus access is reserved for currently-enrolled students and faculty/staff, "library-licensed" content will require a visit to UW-Madison campus libraries in order to use those particular resources on-site.   A tab to "Resources for Guests" supplies information about visiting campus libraries, borrowing privileges, and other services for the wider community of library users.
Visit the guide today:  http://researchguides.library.wisc.edu/cookbooks.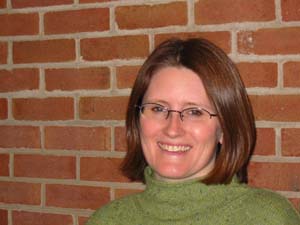 Karen Dunn is an Information Services & Outreach Librarian with Steenbock Library, UW-Madison. When not attending to reference questions in (and out) of the library, she can be found curling (of late), rambling farmers' markets (in season), and planning her next big trip (on which she will invariably acquire a cookbook).
***
Schlesinger Library at Radcliffe has one of the most extensive culinary collections in the United States.
New Culinary Collection Website at the University of Guelph launched a website devoted to the Culinary Collection in the Archival and Special Collections: http://www.lib.uoguelph.ca/archives/culinary/index.html
The site celebrates one of the premiere collections in Canada for food-history research and includes "slide shows" of some of the books. Click on "recipe tabs" for the Una Abrahamson Collection, Helen Gagen Collection, Edna Staebler Collection, and Canadian Cookbook Collection, for biographies of the donors or highlights of the collections. Best of all, you will find a growing selection of digitized cookbooks. Under "Links," you can choose the CHO site, a history of Canadian cookbooks, Cuisine Canada, and direct links to important international food-history sites and library collections.
The Culinary History collection at the New York Public Library has a retrospective collection on gastronomy and the history of foods and is unusually extensive; the cookbook collection alone numbers well over 16,000 volumes. From the beginning, the Library has sought out culinary materials from all regions of the country, and from all parts of the world, in all the languages in which it collects.