CHEW is looking for your culinary history book reviews! If you have read a book or article that addresses an aspect of culinary history, you can send your musings about it to chewwisconsin@gmail.com to post it to the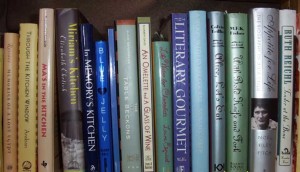 website. We have particular interest in reviewing culinary history books, but reviews of cookbooks or other food books are fine. Please keep your review to under 250 words or thereabouts. We will print your name with the review unless you ask us otherwise. CHEW reserves the right to do light editing for length or other minor needs. No press releases.
***
Books Reviewed – In Alphabetical Order by Title
America's Kitchens by Nancy Carlisle and Melinda Talbot Nasardinov.  This is a compelling homage to the beloved room within the home that is central to our lives in so many respects. The authors recount the history of the kitchen in American life in six time segments covering over four hundred years and encompassing much of the country from New England to the Rio Grande. The book is the second in the remarkable Historic New England series of titles presented by the Society for the Preservation of New England Antiquities. It is so richly embellished with paintings, photographs and historic drawings that one might want to begin what will surely be a nostalgic exploration of the topic by first perusing the visual images and many captions and sidebars before settling in to read the informative text, while at the same time savoring the inevitable flashbacks of special moments that were spent in our own kitchens in the past. Pub info: Historic New England, Boston, 2008. ISBN: 978-0-88448-308-3. (Reviewed by Joan Peterson.)
Apple: A Global History, by Erika Janik (Reaktion Books). Did you know that apples were considered a luxury by the Romans? Ever wonder why apples appealed to Protestants more than any other fruit? And just how did New York come to be called the "Big Apple," anyway? Apple history, folklore and legend are the stuff of this engaging, succinct book from Wisconsin Public Radio producer and freelance writer Erika Janik. She relays the story of cider and how the apple when from toxic threat to health hero, and from local specialty to global commodity. The book finishes with a selection guide and a dozen recipes that span time and international geography. (Reviewed by Terese Allen,
Edible Madison, Winter 2011.)
The Blue Grass Cook Book (1904/2005). This facsimile re-release of a compiled cookbook by Minnie Fox is a wonderful insight into turn-of-the-20th-century southern foodways. With the new Introduction for the 2005 edition by Toni Tipton-Martin, this book is a true resource for recipes and historical contexts. See full review here in PDF form. (Reviewed by Traci Nathans-Kelly.)
Bread and Oil: Majorcan Culture's Last Stand.  "The most effective culinary escapes are not just recipe collections; they incorporate memoir or travel stories, history or even social commentary. Take Bread and Oil: Majorcan Culture's Last Stand, by Tomás Graves, which has all of the above. This new release from University of Wisconsin Press is the English edition of a work first published in Catalan, Majorca's major language. Written by the son of British poet and classicist Robert Graves (of I, Claudius fame), Bread and Oil has the makings of a fine novel: a strong sense of place, a genuine voice, vibrant characters and a metaphoric focus." Read the full review in Word format here. (Reviewed by Terese Allen.)
Cluck: From Jungle Fowl to City Chicks, by Susan Troller (Itchy Cat Press). The tales herein are not so much about chicken as victuals, but chicken as fellow creature. You'll meet factory fowl rescued from the landfill and hens that swoon for a rooster named Big Tiny. You'll learn about heirloom breeds, poultry language and chicken jackets (yep, you read that right). You'll also get recipes for the perfect hard-boiled egg, essays by Jane Hamilton, Ben Logan and Michael Perry, and S.V. Medaris's arresting artwork. The Capital Times' Susan Troller pulls it all together with affection and humor, and with her own observations about the backyard chicken phenomenon, and the pleasures of a life with laying hens. (Reviewed by Terese Allen, Edible Madison, Winter 2011.)
Cooking with the Seasons, by Monique Jamet Hooker. The great British food writer Elizabeth David, in her authoritative French Provincial Cooking (1960), began her section on Brittany and the Loire by saying that "the traveller in search of good food will find some of the most lovely and typical dishes in all French provincial cookery. Not extraordinary or spectacular dishes, perhaps, but, based as they are on raw materials of very fine quality and cooked in quite simple traditional ways, they make a strong appeal to English tastes." This culinary connection between Provincial tradition adjusted for English taste set out by David couldn't be more on display than in Cooking with the Seasons:A Year in My Kitchen (Henry Holt 1997), an under-the-radar masterpiece of seasonal, farm-to-table cooking by French American cook and educator Monique Jamet Hooker.
Cookbook shelves today are stocked with wonderful compilations celebrating ideas of natural ingredients, fresh farm markets, foraging, and simply put, slow food, but it is very compelling to read that some of their historical roots come from the likes of Hooker who grew up on a seventeenth century chateau-farm in Brittany France. She says in her introduction "The Philosophy of Seasonal Cooking" that "Our daily life and many celebrations may seem to speak with the voice of another era, but it is only the echo of joy I continue to find a` table with my family and friends…By inviting the seasons into the kitchen, I know you will soon find your own joy a` table."  Monique's masterpiece becomes a poetic testament to Provincial, familial and farm fresh recipes. "They are inspired by the dishes and techniques I grew up with in Europe, but they are uniquely American because I've adapted the recipes to the range and ingredients available to us here." As the cookbook moves through the seasons, month-by-month, each includes a sort of nostalgic homage to her homeland. Black and white family pictures going back as far as her father's father, Louise, highlight this sort of personal album as cookbook.
But it is the great matriarch of the French family, admiringly 'Maman,' who the book is really dedicated to. Hers was a life spent cultivating the daily ritual and joy of the French countryside farm table. For a November recipe of Chicken and Sage Soup, Hooker prefaces, "Making a soup from the broth a hen cooked in was one way Maman turned today's fare into tomorrow's supper. Meat from the hen was served with a cream sauce for lunch, then the next day the extra meat was shaped into little meatballs and served with the broth as a soup for supper." The recipe is ended by a 'sidenote': "Medieval tradition claims that a strong woman rules the household of a garden where sage is grown."
As of 2016, Hooker works with "Moses" on the annual Organic Conference, overseeing all aspects of the food service for the conference and is a board member of the "Healthy Kids Task Force" and "Farm to School" for the Vernon County, Wisconsin area school district. (Reviewed by Troy Hess, http://riversidedrivefive.blogspot.com/)
Cooking Under Pressure, by Lorna Sass.
Years ago as a newly married, utterly inexperienced cook, I often used a pressure cooker because my mother had used one, but then I moved on to other methods of preparing meals. Lorna Sass' excellent 20th anniversary edition of Cooking Under Pressure, however, has rekindled my interest in using a pressure cooker to prepare meals.
I'm impressed that an amazing range of dishes can be done to perfection in the pressure cooker. It's not just all about old-fashioned pot roast! How about Moroccan lamb tagine or Rock Cornish hens stuffed with apricots and prunes, just two of the many appetite-inspiring recipes contained in Cooking Under Pressure. Indeed, the cookbook contains many delicious preparations I wouldn't have dreamed could be made in a pressure cooker. Imagine risotto, for example. This divine preparation of rice is done in 4 minutes without stirring. It is also worth pointing out that there are other reasons for pressure cookery besides minimizing cooking time. The conservation of fuel it allows is vital in today's environmentally conscious world.
Lorna Sass' 20th anniversary edition of Cooking Under Pressure not only brings back to print the popular first edition,  its recipes have been adjusted to reduce their fat content. In addition, the amount of liquid required has been reduced because technology has made it possible for today's cookers to come to pressure with less water. And if you are still a holdout, there are electronic pressure cookers available. (Reviewed by Joan Peterson.)
Eat Smart in Germany, by Mary Bergin (Ginkgo Press). "Hearty people and hearty fare" is one phrase Madison journalist Mary Bergin uses to describe German culture in this very readable, very usable food guide for travelers. Yet "hearty" herein refers not just to gastronomic gusto but to a generosity of spirit. German food is much more than sausage, kraut and beer, says Bergin—it's near-endless variations of them, plus it's pastries, dumplings, pickles, fowl, venison, wines, condiments, and on and on. Whether you're headed overseas or just interested in learning more about a major influence on the food traditions of our own state, this is a one-stop shop for getting a genuine taste of Deutschland. (Reviewed by Terese Allen.)
Eat Smart in India (Ginkgo Press, 2004) is the seventh book in Joan Peterson's brainy food travel series. Like her previous guides, it's small enough to slip into a carry-on and dense with wisdom about how to eat and drink like a local. Peterson and her Indian-born co-author, Indu Menon, neatly handle the history and development of a very complicated cuisine, provide useful food and phrase glossaries, and walk readers through the culinary regions of India dish by dish. (Reviewed by Terese Allen.)
Eat Smart in Norway, by Joan Peterson (Ginkgo Press). This is the tenth food travel guide penned or co-penned by Peterson, who just might be Madison's most well-fed traveler. I don't know how she keeps her cochinita pibil, tamarrat and poriyal straight, not to mention the barbragrøt and får-i-kål she now has added to the every-growing repertoire. I bow down to her taste buds and to her talent for researching and clarifying foreign foods. (Note: Peterson spoke about Norwegian food at the December, 2012 meeting of the Culinary History Enthusiasts of Wisconsin (CHEW) in Madison. (Reviewe by Terese Allen, Edible Madison, Winter 2011.)
Eat Smart in Portugal, by Joan Peterson and Ronnie Hess (Ginkgo Press, 2017)
I love everything about the Eat Smart travel guides, which, instead of telling you what to see and where to sleep in a country, describe the very heart of a culture, its food. They're compact–small enough to fit in a shoulder bag–and jam-packed–crammed with history,  regional cooking styles and specialties, tips for negotiating outdoor markets, and tested recipes. One section covers resources like tours and travel advice; another offers translated phrases to use when dining or ingredient-shopping. Probably the most useful chapters are the sizable glossaries–conveniently located at the back of the books–which translate everything from well-known specialties to obscure ingredients. The guides aren't just about making you feel comfortable in a foreign restaurant; they help you connect to a location in a deep way.
I've never been to Portugal, but now that there's an Eat Smart guide for it, I want to go more than ever before. But even if I never do, I can still enjoy a learning and tasting adventure to the land of bacalhau, enchercada and porto. (Reviewed by Terese Allen.)
Edible Memory: The Lure of Heirloom Tomatoes and Other Forgotten Foods, by Jennifer A. Jordan (University of Chicago Press). Passion combined with scholarship make this an unusual study of the ways nostalgia, food fashions and food politics intersect and shape each other. UW-Milwaukee sociology professor Jennifer Jordan delves into not only the darlings of the heirloom scene—tomatoes and apples—but also an array of foods that have less cache or have lost favor over time, such as turnips, kale, parsnips and even Jell-O. Both warmly written and much-documented, her book succeeds in illustrating how our "deep culinary connection to the past influences not only the foods we grow and consume, but the ways we shape and imagine our farms, gardens and local landscapes." (Reviewed by Terese Allen, Edible Madison magazine, Dec. 5, 2015)
The Farmstead Chef, by John Ivanko and Lisa Kivirist (New Society Publishers). In the acknowledgments of their book about cooking sustainably, the authors thank dozens and dozens of kindred spirits who have influenced or partnered with them. My guess is that those same people are themselves thanking Ivanko and Kivirist for this proficient new cookbook-guide. Chock full of good cooking and good thinking, it blends inventive, low-on-the-food-chain recipes and preservation techniques with inspiring essays and portrayals of fellow visionaries. I don't think there's anyone writing about local foods these days with more open-heartedness and finesse. (Reviewed by Terese Allen,
Edible Madison, Winter 2011. )
The Flavor of Wisconsin: An Informal History of Food and Eating in the Badger State, Second Edition. Harva Hachten and Terese Allen
Wisconsin: Wisconsin Historical Society Press, 2009
xxii + 392 pp. Illustrations. $29.95 (cloth). Reviewed for Gastronomica, Spring 2010, Vol. 10, Issue 2  by Joan Peterson.
Cookbooks that provide a sense of place—ones that link food and culture so you can grasp the flavor of a place and the daily life of its people—are not so uncommon today, especially those that concentrate on less-known cultures around the globe.
Harva Hachten, however, was well ahead of the times by moving away from the standard ingredients/method model of cookbook writing almost thirty years ago with the publication of her seminal, state-focused cookbook, The Flavorof Wisconsin: An Informal History of Food and Eating in the Badger State. She interwove Wisconsin's distinctive culinary history with over four hundred original recipes and reminiscences
carefully selected from those submitted by residents of the state in response to an invitation from the Wisconsin Historical Society to participate in a book project. The extensive collection reflected the considerable agricultural and ethnic diversity of the state and was liberally laced with food lore, photographs, and scholarly essays from a variety
of sources, including the publisher's extensive archival and manuscript holdings.
Out of print for many years, the groundbreaking cookbook has recently been superbly updated, expanded, and retooled by Terese Allen, who as a cooking teacher, food columnist, former chef, and author of several authoritative books and articles on Wisconsin's culinary legacy, is eminently qualified for the task. Allen and Hachten began their collaboration on the cookbook revision in 2005, but Hachten's death less than a year into the project gave Allen a daunting challenge to complete it alone.
The second edition of The Flavor of Wisconsin brings the book up to contemporary times; it also provides revisions of the original material and adds several new topics. In the first edition Hachten had covered the state's food traditions from the late nineteenth century up through the mid-twentieth century, discussing in considerable detail the lives, the foods, and the recipes of early settlers: pioneer communities established around the fur trade, Yankees and New Yorkers who migrated west looking for greater opportunities, and Old World immigrants. This first edition also included a comprehensive review of the foodways of Native Americans residing in Wisconsin and, amazingly, also touched on the topic of food availability as far back as prehistoric times.
Terese Allen's most compelling addition to the second edition is a chapter entitled "Fresh Age." It delineates several dramatic changes in Wisconsin's food culture that have occurred since the latter part of the twentieth century, examining in detail the continuing evolution of the flavor of Wisconsin. Among these changes are the rapid growth of organic farming, the proliferation of farmer's markets, and the concern for sustainable agriculture. In the last several decades Wisconsin has moved to the forefront of the local and sustainable food movement. The state has the country's largest producer-only farmer's market (in Dane County), at which all vendors must be the producers of the products they sell. Other changes to emerge within the fast-growing food revolution are food sophistication, which has fueled the rise of distinctive, artisanal foods and beverages, the Slow Food Movement, and new foodways contributed by the state's relatively recent immigrant populations.
About three dozen recipes augment the collection contained in the first edition. While Allen limited the number of additional recipes because numerous other recipe sources are available either online, in blogs, or in cookbooks and magazines, her adroit selections include preparations that would allow meal choices for people who want to eat more sustainably, classic recipes she felt ought to be in the book, and recipes representative of the new ethnicities in the state.
Besides superbly chronicling the recent changes in Wisconsin's foodways, Allen has strengthened the text's culinary history throughout and at the same time revamped the book's format. Some of the original as well as new text is presented in sidebars, and subheadings have been added, which provide both a fresh look and a much more readable book. This incredible compilation ought to be in every home, library, and classroom in the state, and in the hands of culinary historians and other foodies everywhere.
What would Harva Hachten think about the new edition? I'm betting she'd be proud as punch. (Reviewed by Joan Peterson, PhD, Madison, WI.)
Fried Walleye and Cherry Pie: Midwestern Writers on Food, by Peggy Wolff (University of Nebraska Press). Thirty essays and fourteen recipes delve into Midwestern foodways; we hear from editor PeggyWolff on the Door County fish boil, from Jacquelyn Mitchard on sweet corn and from Molly O'Neill on the Midwest as the center of the next food revolution. There are pieces on Cincinnati chili, rhubarb kuchen and meatloaf (of course), foods that heartlanders identify with and argue over, wrapped in stories that will make you laugh, learn and amaze. (Reviewed by Terese Allen, Edible Madison magazine, December, 2103)
Good Seeds: A Menominee Food Memoir, by Thomas Pecore Weso (Wisconsin Historical Society Press, 2016). "This is how I understand cooking, as part of a family process that includes spirit, the forest environment and fuel for cooking—all before the meal can be prepared." Sentences like this, from a lovely new regional food memoir, elegantly express the author's multiple perspectives as anthropologist, artist, Menominee Indian, family member, cook. Raised in the big, multi-generational home of his matriarch grandmother and medicine-man grandfather, Tom Weso grew up eating (and hunting, gathering and growing) labor-intensive traditional foods along with modern, open-a-can fare.  Everyone, even children, for example, drank ko-peh (coffee), to battle the ever-present northeastern Wisconsin cold. But breakfast, an enormous meal his grandmother started before dawn each day by "making fire" in the wood stove, hot cereal was typically cornmeal mush, not the oatmeal white people ate. The morning meal could also include fish, game, bacon, eggs, potatoes, cornbread, fruit pies and cottage cheese from a nearby dairy that delivered to the rez.
The book is organized by ingredient—beaver, wild rice, corn, maple syrup, etc.—with chapters, too, on German beer, Wisconsin diner meals  and the concession foods at county and tribal fairs. Each section ends with one or more recipes, some familiar (baked walleye), some exotic (roast porcupine). But Weso's stories are much more than culinary tales or instruction; plain-spoken and occasionally hilarious, they open doors of appetite, understanding and connection.
A contemporary of Weso who grew up less than an hour away from the Menominee reservation, I learned more about tribal food, culture and family life reading this single slender book than I did in more than two decades as his regional neighbor. Good Seeds is a poignant, important book. (Reviewed by Terese Allen, Isthmus, Dec. 1, 2016.)
Gudrun's Kitchen: Recipes from a Norwegian Family, by Irene O. Sandvold, Ingeborg Hydle Baugh, Edward O. Sandvold, and Quinn E. Sandvold (Wisconsin Historical Society Press). A family food memoir devoted to the life and cookery of immigrant Gudrun Thue Sandvold. Gifted in the kitchen, Gudrun blended traditional Norwegian fare with interpreted American dishes. She left a legacy of good eating that has been lovingly captured, along with Gudrun's life story, by four family members. (Reviewed by Terese Allen, Edible Madison, Winter 2011.)
Jasmine in Her Hair: Culture and Cuisine from Pakistan. "We can be culinary tourists without actually leaving home," writes folklorist Lucy M. Long in Culinary Tourism (University Press of Kentucky). "Cookbooks…offer mental and emotional journeys to other food worlds. Jasmine in Her Hair: Culture and Cuisine from Pakistan (White Jasmine Press, 2004) is proof of that pudding. It's a memoir by Huma Siddiqui, a Madison, Wisconsin-based CPA who grew up in Islamabad. She wrote this collection of family stories, foodways descriptions and recipes as a heartfelt means to an end–that is, keeping Pakistani food traditions alive. The book is inadequately edited (I'm a stickler for things like listing ingredients in the order which they're used), but it's a beauty to behold, with photos of rural scenes, table settings and completed dishes. Most of the recipes are easy to follow, but if you're a novice at such things as making samosa dough or deep-frying shaaker paras, consider taking one of Siddiqui's cooking classes to watch and learn (visit whitejasmine.com for a list of classes).
What I like best about Jasmine in Her Hair is how well it illustrates that foods–and other customs–considered alien by some are dearly familiar and deeply personal to others. Siddiqui's vignettes have a guileless, almost haunting tone, as she recalls everything from the choori wali (woman with bangles) fascinated by the contents of a refrigerator to the meaning of food and family in Pakistan.  (Reviewed by Terese Allen.)
A Literary Feast: Recipes and Writings by American Women Authors from History. "The book takes a unique approach to culinary history: it juxtaposes nineteenth-century recipes with passages about food preparation and dining from literature written by women of the time. By pairing the "food-talk" of women's literature with recipes, A Literary Feast, authored by Yvonne Schofer offers an entertaining and illuminating way to experience the culture of a by-gone era." See full review here, a version of which appeared in the Milwaukee Journal-Sentinal, October 22, 2003. (Reviewed by Terese Allen.)
Midwest Maize: How Corn Shaped the U.S. Heartland, by Cynthia Clampitt (Heartland Foodways). Food historian Cynthia Clampitt explores the astounding story of how corn developed from a humble grain into one of the greatest achievements in history. This a likeable, deeply-researched book that deftly covers a great deal of territory for its size, including: how a Mexican weed came to feed—literally and culturally—two continents; how it went from being distained to dominant in the U.S.; how it built cities, industries and our very food supply; and the many ways it is intimately linked to Midwestern development and culture. The serious stuff is balanced, too, with sections on popcorn, corn festivals, corn cuisine and more. (Reviewed by Terese Allen, Edible Madison magazine, Dec. 5, 2015)
Milwaukee Frozen Custard, by Kathleen McCann & Robert Tanzilo (American Palate). This combination local history book-travel guide is full of proof that frozen custard in Milwaukee is, as the back cover states, "a culture, a life-style and a passion." Kathleen McCann and Robert Tanzilo are Milwaukee-based writer-editors, and here they offer vignettes of more than fifty custard stands located mostly in and around Milwaukee. (The places are alphabetically arranged, but a geographical map added here would have been handy for travelers.) They also furnish extensive coverage to four "stand-out stands"—Gilles, Leon's, Kopp's and Culver's—because of their high standards, creativity and historical significance, and for their role in spreading custard love across the nation. The book's last chapter gives attention to dozens more locations that have come and gone.
The authors take on myths like, "Frozen custard was invented in Milwaukee," and "It's higher in fat and calories than ice cream," and clear up such questions as why store-bought and homemade custard is never as good as the kind at custard stands. There's a lot covered in a little space here—history, science, lore…and enough flavor varieties to keep custard lovers going for years. (Reviewed by Terese Allen, Edible Door magazine.)
My Pantry, by Alice Waters. It would be hard to imagine the history of the farm-to-table movement in America without the presence and guidance of Alice Waters. In two bits of culinary history trivia, among so many others to choose from, we can see how Waters and the movement co-evolved, so to speak. At 19, living in France as a student, she said she "lived at the bottom of a market street, and I took everything in by osmosis." Years later, in the beginning stages of creating the local food market at her Berkeley restaurant Chez Panisse, it was Waters' self-invented in-house 'forager,' Patricia Unterman, who received a call from another local food activist Sibella Kraus to see if she was interested in helping to revitalize the Ferry Market Building in San Francisco as a hub for bringing together farmers and restaurants and sell to the public as well. The rest is farm-to-table history. It seems very fitting then that Waters' 2015 cookbook My Pantry: Homemade Ingredients That Make Simple Meals Your Own (Pam Kraus Books) anticipates yet the next progression in a growing niche by advancing the idea that "Simplicity and economy and ease in the kitchen all come from having a pantry you've made your own from ingredients you've mixed and made yourself." The recipe book, made up of chapters like "Spice Mixtures and Condiments," "Nuts," Beans and Other Legumes," "Cheese," and "Sweet Preserves," provides busy but conscientious home cooks with some simple recipes that allows us to rely less on processed recipe components and more on prepared staples. What better way to celebrate the treasure of the pantry than with her daughter, Fanny Singer, an art historian who happens to illustrate this artful and timely book. (Reviewed by Troy Hess, for CHEW, October 18, 2017.)
The New Midwestern Table: 200 Heartland Recipes, by Amy Thielen (Clarkson Potter). Amy Thielen has a philosopher's sensibility about both the food and the landscape of the Midwest, which, she says, "may seem ordinary to outsiders looking in, but [feel] privately epic to those who live here." Her dishes derive from her own experience with regional bounty or are "reengineered classics; I can't wait to try the likes of Cracker-Crusted Panfish,  Wild Plum Manhattans and Cardamom Caramel Rolls. Thiele intelligently, lovingly Midwestern food culture—its private nature and lack of easy definition; the enduring European peasant influences amid today's new ethnic additions; the seasonality and rural sourcing; and the cadre of regional cooks who have been "directing the course of American cuisine for a long time." (Reviewed by Terese Allen, Edible Madison magazine, December, 2103)
Old Farm Country Cookbook: Recipes, Menus, and Memories, by Jerry Apps and Susan Apps-Bodilly (Wisconsin Historical Society Press, 2017.) Honey-glazed ham, pickled northern pike and strawberry sandwiches—if you think farm foods of the past made for uninteresting fare, think again. Just check out this memoir-cookbook by rural historian Jerry Apps (of Wisconsin Public Television fame) and his daughter Susan Apps-Bodilly. It's a warm-hearted yet realistic study of food and farm life in days gone by, a time when the noon meal was called "dinner" and families left the back door unlocked for the ice man. Jerry's story-telling guides us through farmhouse, fields, garden, barn, woods and community to reveal how food-related concerns and satisfactions infused nearly every aspect of country life. Susan's family recipes—canned chicken, fresh peas in milk sauce, wild blueberry cobbler—channel beloved flavors and by-gone techniques. From ring bologna and whiskey slings, to feed-sack aprons and the green-stained fingers of cucumber pickers, Old Farm Country Cookbook is a literary way-back machine that vividly, lovingly and deliciously details the food culture of a younger time. (Reviewed by Terese Allen, Edible Door, Winter, 2017.)
Olives, Lemons & Za'atar: The Best Middle Eastern Home Cooking, by Rawia Bishara (2104).  It seems many of the most memorable cookbooks by restaurant owners read and look like generous invitations not only to their restaurant tables but also to the tables of their childhood memories. Rawia Bishara, owner of the acclaimed Middle-Eastern restaurant Tanoreen in Bay Ridge, Brooklyn offers us just such an invitation. She begins her cookbook Olives Lemons & Za'atar: The Best Middle Eastern Home Cooking  (Kyle Books 2014) by telling us that her name, Rawia, means storyteller in Arabic. "I was born into a food-loving Palestinian-Arab family in Nazareth, a beautiful town in southern Galilee. Though the words 'organic,' 'locovore,' and 'sustainable' were unknown then, my parents' approach to food and cooking qualified on all counts. They were 'foodies' before the word was coined." The rest of the cookbook follows as a stunningly colorful Mediterranean family photo album capturing Rawia's dual tributes to her homeland in Nazareth, and to her mother, Monita Hanna. She was "an impressive and enthusiastic cook who whipped together meals for the seven of us…though she was influenced by the cooking traditions of her native Galilee, her approach was not rigidly authentic. She understood the value of bending the rules when it came to cooking, a practice we relished at the dinner table." Each recipe in the cookbook recounts in some way this hearkening back to the remembered cultural rituals of Middle-Eastern cuisine based on her mother's inspiration.
Readers learn about the tradition of Mezze in Middle-Eastern culture, "small plates of food served all at once, before the main course, to provide a bounty of tastes and textures." Raw Kibbeh (usually the freshest and most lean cuts of lamb or goat, mixed with bulgur, rolled into balls and served), Hummus, Eggplant Pate`, Baba Ghanouj, and Mutabal, are all dishes that may ring with some familiarity from Middle-Eastern American restaurants. In Olives, they are offered with a sprinkling of special instructions from her mother. "Whenever a dish called for tahini, my mother tried leaving it out because she felt omitting it instantly lightened the dish." We find out in the section "Big Dishes," that the idea of eating the biggest meal of the day for dinner was foreign to Rawia until she moved to New York. "Back home in Nazareth, lunch, or Ghada, was the grand meal and it was always served late in the afternoon." She describes her memory of the ritualistic making of Palestinian Couscous with Chicken, Chickpeas and Pearl Onions in a short section titled "The Romance of Maftool," a wonderful little story about her mother and father sharing cooking responsibilities at a time when men were rarely if ever seen in the kitchen. By the last recipe, the reader gets the feeling that to visit Tanoreen would be in many ways a visit to those small towns surrounding Nazareth in Galilee. (Reviewed by Troy Hess, http://riversidedrivefive.blogspot.com/).
Original Local: Indigenous Foods, Stories and Recipes from the Upper Midwest, by Heid E. Erdrich (Minnesota Historical Society Press). Poet Heid E. Erdrich does not consider herself a cook or even a foodie, but you wouldn't know it by the appetizing recipes and edifying tales in her salute to native foods of the Great Lakes and Great Plains. She submits a passionate, studied and hungry eye to wild rice, morel mushrooms, squash, smoked whitefish, Juneberries, maple syrup and much, much more. Her graceful volume also celebrates indigenous people via personal and community tales. (Reviewed by Terese Allen, Edible Madison magazine, December, 2103)
The Other Side of Russia. "Foodies in particular will relish award-winning author Sharon Hudgin's magnificiently rich book about Siberia and the Russian Far East, The Other Side of Russia published by Texas A&M University Press (ISBN 1-58544-404-9). Teaching assignments took Sharon and her husband, Tom, to Asian Russia in 1993 as part of a new program established by University of Maryland University College. This book is an engaging personal narrative about life in the challenging early years following the fall of communism. The author discusses in fascinating detail her social, political and economic environment, but she is at her very best when recounting her extraordinary culinary experiences with Russian friends. Dinners, by necessity often pot-luck, were cobbled together under difficult and often harsh conditions. Ingredients were obtained piecemeal from numerous shops and vendors, following rumors of availability, and with luck were purchased after tedious waits in long lines. All goodies had to be trudged up many flights of stairs, typically in tall concrete apartment monstrosities with defunct elevators. Rarely were basic amenities—water, electricity and heat—simultaneously available for the comfort of the guests. Despite the hardships, the meals were amazingly sumptuous. This engrossing, informative book is a valuable resource and a great read." (Reviewed by Joan Peterson, Ph.D. and author of EAT SMART series)
Pickled Herring and Pumpkin Pie.  "In Jack Finney's classic time-travel novel, Time and Again, the protagonist immerses himself in the study of a bygone era, 19th-century New York. By saturating his consciousness with its culture, language, objects and scenery–by becoming one with the environment of the past–he finds himself literally "there." It's an arresting notion, one that I very much wished were true recently as I pored through Pickled Herring and Pumpkin Pie, the 2002 reprint of a nineteenth-century German cookbook that was adapted for German immigrants to America. (Pickled Herring and Pumpkin Pie is a project of the University of Wisconsin's Max Kade Institute for German American Studies and is distributed by University of Wisconsin Press.) Wouldn't it be great, I thought, as I read about turn-of-the-century specialties like potato dumplings, herring salad and eel soup, if recreating the smells and flavors of historical recipes could transport you there? The book is so vividly authentic it almost seemed possible. (Reviewed by Terese Allen." Read the full review in Word format here.
Putting Down Roots: Gardening Insights from Wisconsin's Early Settlers, by Marcia Carmichael (Wisconsin Historical Society Press). Imagine a time-traveling garden tour and you've just pictured Putting Down Roots. Carmichael is Old World Wisconsin's historical gardener and her book is as entrancing as a stroll through the immigrant plots she designs and nurtures there. This is real-life, everyday history—not dates and titles, but seeds, tools, recipes and meals that illustrate immigrant hopes, values and traditions. Carmichael's book is an heirloom feast for contemporary cooks, gardeners and food history buffs. (Reviewed by Terese Allen, Edible Madison, Winter 2011)
Soil Sisters:  A Toolkit for Women Farmers, by Lisa Kivirist (New Society Publishers) Lisa Kivirist has done it again. Co-author of four books related to food and sustainability, she knocks it out of the park with a comprehensive, first-of-its-kind guide to farming that's geared to the fastest growing group in agriculture—women. As founder-director of an award-winning resource center for rural women, and a farmer herself, Kivirist is well placed to instruct on the full spectrum of resources that today's female growers need. She covers everything from risk management and raising livestock to business planning and body care. Along the way, she shares the stories of more than 100 very cool women who are transforming our food system. Soil Sisters is engaging, inspiring and practical. Damn, she's good. (Reviewed by Terese Allen, Isthmus, Dec. 1, 2016.)
Spaghetti Corners…and all that Sauce!, by Catherine Tripalin Murray.(Greenbush…remembered). The fourth and final self-published book about Madison's long-lost Greenbush neighborhood, this is a loving tribute and a substantial achievement. Murray's tome contains biographical sketches of the Italian and Sicilian men who lived in Madison's Little Italy between 1990 and 1960, before it was razed by urban planning. Each grandfather, father and son vignette includes a photo, intimate tidbits of oral history and gotta-try heritage recipes. A book that will make you wish you were Italian…and digging into a platter of spiedini. (Reviewed by Terese Allen, Edible Madison, Winter 2011)
Wisconsin Agriculture: A History, by Jerry Apps (University of Wisconsin Press). Is there anyone who observes, documents or embraces the Dairy State's rural heritage more than Jerry Apps? There is not. The beloved emeritus professor, writing teaching and author of dozens of books about barns, cheese, beer, gardening and farm life, Apps brings his signature focus to a handsome new book that examines the full spectrum of Wisconsin's agricultural history. If you think farming here has been all about cows and corn, think again. Apps covers the obvious and the surprising: cherries, apples, cranberries, beef cattle, fur farming, Christmas trees, maple syrup, hemp, ginseng, sugar beets, mint, sphagnum moss, flax, hops, aquaculture, beekeeping, urban farming…and, well, you get the picture. Now go get the book, and join Jerry in celebrating the cornucopia-like splendor of our state. (Reviewed by Terese Allen, Edible Madison magazine, Dec. 5, 2015)
Wisconsin Supper Club Cookbook: Iconic Fare and Nostalgia from Landmark Eateries, by Mary Bergin (Globe Pequot). Long-time supper club aficionados (like me) are enjoying a resurgence of interest in this idiosyncratic and much-beloved regional tradition. They're the subject recently of no less than three documentary films, two books and various radio programs.  Now, respected food journalist Mary Bergin adds her perspective to the evolving story of supper clubs with this combination cookbook-travel guide. You'll find recipes for Wisconsin beer cheese chowder, whitefish almondine and Door County cherry sauce alongside anecdotes from the Gib's on the Lake, Altona Supper Club, and thirty-eight more rural and urban establishments around the state. I just might have to get another copy, so I can keep one in the kitchen and one beneath the driver's seat of my car. (Reviewed by Terese Allen, Edible Madison magazine, Dec. 5, 2015)
Wisconsin Supper Clubs: An Old-Fashioned Experience, by Ron Faiola (Midway) and The Supper Club Book: A Celebration of a Midwest Tradition, by Dave Hoekstra  (Chicago Review Press). Not one but two hardcovers about supper clubs came out this year (2013). Ron Faiola's shots showcase interiors, proprietors and classic dishes and—like his go-with essays—they are frank and friendly snapshots of beloved destinations. Hoekstra's lens is wider—he covers the upper Midwest, emphasizing Wisconsin (the true epicenter of supper clubs)—and he uses oral history and evocative photography to reveal the character and meaning of supper clubs as place. "A contained little universe," he so aptly calls them, "the fork in the road between yesterday and today." (Reviewed by Terese Allen, Edible Madison magazine, December, 2103)
Wisconsin Supper Clubs: Another Round, by Ron Faiola (Agate). One of my fondest memories of supper clubs is an early one, when several high school friends and I drove in a borrowed green Ford Mustang "up the coast" from Green Bay to the Club Chalet, an A-framed structure that sat on a rise near the intersection of Highways 57 and A, and boasted beautiful views of the bay. It was a rite-of-passage kind of adventure that included a swanky, out-of-town destination, Alaskan king crab legs and heavy-on-the-booze brandy old-fashioneds (illegal, but we got away with it). Countless supper club experiences later, I still get that grown-up, I-belong feeling, and I still relish the classic fare served up with heartland graciousness at such places as the ones in Ron Faiola's new hardcover.
The book, as with his first tour of Wisconsin supper clubs, features fifty establishments arranged in geographic sections, with big, colorful local-flavor photos on every page. Faiola's tone is easy-going and personal, and his stories blend supper club and family history with culinary and architectural description. I got a kick out the "My Take" sidebars, in which he covers extras like local folk legends (Rhinelander's Hodag monster); house specialties (jaeger schnitzel and sauerkraut bread at Gib's on the Lake, Kewaunee); and "it's a small world" coincidences (overhearing a group at a nearby table discussing his first book). (Reviewed by Terese Allen, Isthmus, Dec. 1, 2016)
Writing at the Kitchen Table: The Authorized Biography of Elizabeth David (Ecco), by Artemis Cooper. David introduced England to Mediterranean food and became one of the world's most influential food writers, but here we learn that she wasn't exactly a nice person. She married for convenience, held grudges and was an unwavering perfectionist. In other words, she was human. It's doubtful that David, who was intensely private, would have liked this book, but Cooper is sympathetic, even loving, and her book is as thoroughly researched and honestly written as David's own works. (Reviewed by Terese Allen.)