CHEW is looking for your culinary history book reviews! If you have read a book or article that addresses an aspect of culinary history, you can send your musings about it to chewwisconsin@gmail.com to post it to the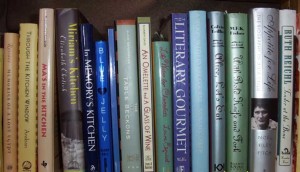 website. We have particular interest in reviewing culinary history books, but reviews of cookbooks or other food books are fine. Please keep your review to under 250 words or thereabouts. We will print your name with the review unless you ask us otherwise. CHEW reserves the right to do light editing for length or other minor needs. No press releases.
***
Books Reviewed by Title
The Flavor of Wisconsin: An Informal History of Food and Eating in the Badger State, Second Edition
A Literary Feast: Recipes and Writings by American Women Authors from History
Pickled Herring and Pumpkin Pie
***
Cluck: From Jungle Fowl to City Chicks, by Susan Troller (Itchy Cat Press). The tales herein are not so much about chicken as victuals, but chicken as fellow creature. You'll meet factory fowl rescued from the landfill and hens that swoon for a rooster named Big Tiny. You'll learn about heirloom breeds, poultry language and chicken jackets (yep, you read that right). You'll also get recipes for the perfect hard-boiled egg, essays by Jane Hamilton, Ben Logan and Michael Perry, and S.V. Medaris's arresting artwork. The Capital Times' Susan Troller pulls it all together with affection and humor, and with her own observations about the backyard chicken phenomenon, and the pleasures of a life with laying hens.
Terese Allen
Edible Madison, Winter 2011
***
Creating Dairyland, by Edward Janus (Wisconsin Historical Society Press). Dairying gets its due from the man who started the Madison Muskies and Capital Brewery, has worked for two decades as a radio journalist and unequivocally loves cows. "I believe the dairy cow created Wisconsin," he writes, and then proves it. Janus explores the industry's "big bang" creation in Wisconsin, the hard work and commitment of early dairy innovators and advocates, and the connections between our storied dairy heritage of past and present.
Terese Allen
Edible Madison, Winter 2011
***
Sidetracked in the Midwest: A Green Guide for Travelers, by Mary Bergin (Itchy Cat Press). Bergin's latest book is not exclusively about culinary destinations; it also covers lodging, retreats, nature and wildlife. Her geographic focus is the Midwest and she aims her signature bulls-eye focus on a diverse mix of community- and environment-minded businesses and initiatives. Bergin's other books feature Wisconsin and her world-wide travels are chronicled at www.roadstraveled.com and elsewhere. At the Edgerton Book Festival last month, Bergin was introduced as Wisconsin's premier travel writer. I couldn't have put it better myself.
Terese Allen
Edible Madison, Winter 2011
***
Putting Down Roots: Gardening Insights from Wisconsin's Early Settlers, by Marcia Carmichael (Wisconsin Historical Society Press). Imagine a time-traveling garden tour and you've just pictured Putting Down Roots. Carmichael is Old World Wisconsin's historical gardener and her book is as entrancing as a stroll through the immigrant plots she designs and nurtures there. This is real-life, everyday history—not dates and titles, but seeds, tools, recipes and meals that illustrate immigrant hopes, values and traditions. Carmichael's book is an heirloom feast for contemporary cooks, gardeners and food history buffs.
Terese Allen
Edible Madison, Winter 2011
***
Gudrun's Kitchen: Recipes from a Norwegian Family, by Irene O. Sandvold, Ingeborg Hydle Baugh, Edward O. Sandvold, and Quinn E. Sandvold (Wisconsin Historical Society Press). A family food memoir devoted to the life and cookery of immigrant Gudrun Thue Sandvold. Gifted in the kitchen, Gudrun blended traditional Norwegian fare with interpreted American dishes. She left a legacy of good eating that has been lovingly captured, along with Gudrun's life story, by four family members.
Terese Allen
Edible Madison, Winter 2011
***
Apple: A Global History, by Erika Janik (Reaktion Books). Did you know that apples were considered a luxury by the Romans? Ever wonder why apples appealed to Protestants more than any other fruit? And just how did New York come to be called the "Big Apple," anyway? Apple history, folklore and legend are the stuff of this engaging, succinct book from Wisconsin Public Radio producer and freelance writer Erika Janik. She relays the story of cider and how the apple when from toxic threat to health hero, and from local specialty to global commodity. The book finishes with a selection guide and a dozen recipes that span time and international geography.
Terese Allen
Edible Madison, Winter 2011
***
The Secret Ingredient, by Laura Schaefer (Simon & Schuster). Aimed at teenage girls, this is a novel that will appeal to tea lovers and locavores of all ages. (And if you like to bake, get out your mixing bowls, for Schaefer intersperses pastry recipes throughout the chapters.) The story is based in Madison, so part of the fun is recognizing local favorites like Mickey's Tavern, REAP Food Group and the Dane County Farmers' Market. Budding love, a scone contest and a little mystery— I enjoyed it all one sitting, and will now go back to read Schaefer's first book, The Teashop Girls.
Terese Allen
Edible Madison, Winter 2011
***
Spaghetti Corners…and all that Sauce!, by Catherine Tripalin Murray (Greenbush…remembered). The fourth and final self-published book about Madison's long-lost Greenbush neighborhood, this is a loving tribute and a substantial achievement. Murray's tome contains biographical sketches of the Italian and Sicilian men who lived in Madison's Little Italy between 1990 and 1960, before it was razed by urban planning. Each grandfather, father and son vignette includes a photo, intimate tidbits of oral history and gotta-try heritage recipes. A book that will make you wish you were Italian…and digging into a platter of spiedini.
Terese Allen
Edible Madison, Winter 2011
***
Eat Smart in Norway, by Joan Peterson (Ginkgo Press). This is the tenth food travel guide penned or co-penned by Peterson, who just might be Madison's most well-fed traveler. I don't know how she keeps her cochinita pibil, tamarrat and poriyal straight, not to mention the barbragrøt and får-i-kål she now has added to the every-growing repertoire. I bow down to her taste buds and to her talent for researching and clarifying foreign foods. (Note: Peterson spoke about Norwegian food at the December, 20122 meeting of the Culinary History Enthusiasts of Wisconsin (CHEW) in Madison.
Terese Allen
Edible Madison, Winter 2011
***
The Farmstead Chef, by John Ivanko and Lisa Kivirist (New Society Publishers). In the acknowledgments of their new book about cooking sustainably, the authors thank dozens and dozens of kindred spirits who have influenced or partnered with them. My guess is that those same people are themselves thanking Ivanko and Kivirist for this proficient new cookbook-guide. Chock full of good cooking and good thinking, it blends inventive, low-on-the-food-chain recipes and preservation techniques with inspiring essays and portrayals of fellow visionaries. I don't think there's anyone writing about local foods these days with more open-heartedness and finesse.
Terese Allen
Edible Madison, Winter 2011
***
The Flavor of Wisconsin: An Informal History of Food and Eating in the Badger State, Second Edition. Harva Hachten and Terese Allen
Wisconsin: Wisconsin Historical Society Press, 2009
xxii + 392 pp. Illustrations. $29.95 (cloth). Reviewed for Gastronomica, Spring 2010, Vol. 10, Issue 2  by Joan Peterson.
Cookbooks that provide a sense of place—ones that link food and culture so you can grasp the flavor of a place and the daily life of its people—are not so uncommon today, especially those that concentrate on less-known cultures around the globe.
Harva Hachten, however, was well ahead of the times by moving away from the standard ingredients/method model of cookbook writing almost thirty years ago with the publication of her seminal, state-focused cookbook, The Flavorof Wisconsin: An Informal History of Food and Eating in the Badger State. She interwove Wisconsin's distinctive culinary history with over four hundred original recipes and reminiscences
carefully selected from those submitted by residents of the state in response to an invitation from the Wisconsin Historical Society to participate in a book project. The extensive collection reflected the considerable agricultural and ethnic diversity of the state and was liberally laced with food lore, photographs, and scholarly essays from a variety
of sources, including the publisher's extensive archival and manuscript holdings.
Out of print for many years, the groundbreaking cookbook has recently been superbly updated, expanded, and retooled by Terese Allen, who as a cooking teacher, food columnist, former chef, and author of several authoritative books and articles on Wisconsin's culinary legacy, is eminently qualified for the task. Allen and Hachten began their collaboration on the cookbook revision in 2005, but Hachten's death less than a year into the project gave Allen a daunting challenge to complete it alone.
The second edition of The Flavor of Wisconsin brings the book up to contemporary times; it also provides revisions of the original material and adds several new topics. In the first edition Hachten had covered the state's food traditions from the late nineteenth century up through the mid-twentieth century, discussing in considerable detail the lives, the foods, and the recipes of early settlers: pioneer communities established around the fur trade, Yankees and New Yorkers who migrated west looking for greater opportunities, and Old World immigrants. This first edition also included a comprehensive review of the foodways of Native Americans residing in Wisconsin and, amazingly, also touched on the topic of food availability as far back as prehistoric times.
Terese Allen's most compelling addition to the second edition is a chapter entitled "Fresh Age." It delineates several dramatic changes in Wisconsin's food culture that have occurred since the latter part of the twentieth century, examining in detail the continuing evolution of the flavor of Wisconsin. Among these changes are the rapid growth of organic farming, the proliferation of farmer's markets, and the concern for sustainable agriculture. In the last several decades Wisconsin has moved to the forefront of the local and sustainable food movement. The state has the country's largest producer-only farmer's market (in Dane County), at which all vendors must be the producers of the products they sell. Other changes to emerge within the fast-growing food revolution are food sophistication, which has fueled the rise of distinctive, artisanal foods and beverages, the Slow Food Movement, and new foodways contributed by the state's relatively recent immigrant populations.
About three dozen recipes augment the collection contained in the first edition. While Allen limited the number of additional recipes because numerous other recipe sources are available either online, in blogs, or in cookbooks and magazines, her adroit selections include preparations that would allow meal choices for people who want to eat more sustainably, classic recipes she felt ought to be in the book, and recipes representative of the new ethnicities in the state.
Besides superbly chronicling the recent changes in Wisconsin's foodways, Allen has strengthened the text's culinary history throughout and at the same time revamped the book's format. Some of the original as well as new text is presented in sidebars, and subheadings have been added, which provide both a fresh look and a much more readable book. This incredible compilation ought to be in every home, library, and classroom in the state, and in the hands of culinary historians and other foodies everywhere.
What would Harva Hachten think about the new edition? I'm betting she'd be proud as punch.
—Joan Peterson, PhD, Madison, WI
***
Cooking Under Pressure by Lorna Sass. Reviewed by Joan Peterson.
Years ago as a newly married, utterly inexperienced cook, I often used a pressure cooker because my mother had used one, but then I moved on to other methods of preparing meals. Lorna Sass' excellent 20th anniversary edition of Cooking Under Pressure, however, has rekindled my interest in using a pressure cooker to prepare meals.
I'm impressed that an amazing range of dishes can be done to perfection in the pressure cooker. It's not just all about old-fashioned pot roast! How about Moroccan lamb tagine or Rock Cornish hens stuffed with apricots and prunes, just two of the many appetite-inspiring recipes contained in Cooking Under Pressure. Indeed, the cookbook contains many delicious preparations I wouldn't have dreamed could be made in a pressure cooker. Imagine risotto, for example. This divine preparation of rice is done in 4 minutes without stirring. It is also worth pointing out that there are other reasons for pressure cookery besides minimizing cooking time. The conservation of fuel it allows is vital in today's environmentally conscious world.
Lorna Sass' 20th anniversary edition of Cooking Under Pressure not only brings back to print the popular first edition,  its recipes have been adjusted to reduce their fat content. In addition, the amount of liquid required has been reduced because technology has made it possible for today's cookers to come to pressure with less water. And if you are still a holdout, there are electronic pressure cookers available.
***
The Blue Grass Cook Book (1904/2005). Reviewed by Traci Nathans-Kelly. This facsimile re-release of a compiled cookbook by Minnie Fox is a wonderful insight into turn-of-the-20th-century southern foodways. With the new Introduction for the 2005 edition by Toni Tipton-Martin, this book is a true resource for recipes and historical contexts. See full review here in PDF form.
***
Writing at the Kitchen Table: The Authorized Biography of Elizabeth David (Ecco) by Artemis Cooper. Reviewed by Terese Allen. David introduced England to Mediterranean food and became one of the world's most influential food writers, but here we learn that she wasn't exactly a nice person. She married for convenience, held grudges and was an unwavering perfectionist. In other words, she was human. It's doubtful that David, who was intensely private, would have liked this book, but Cooper is sympathetic, even loving, and her book is as thoroughly researched and honestly written as David's own works.
***
Jasmine in Her Hair: Culture and Cuisine from Pakistan. Reviewed by Terese Allen."We can be culinary tourists without actually leaving home," writes folklorist Lucy M. Long in Culinary Tourism (University Press of Kentucky). "Cookbooks…offer mental and emotional journeys to other food worlds. Jasmine in Her Hair: Culture and Cuisine from Pakistan (White Jasmine Press, 2004) is proof of that pudding. It's a memoir by Huma Siddiqui, a Madison, Wisconsin-based CPA who grew up in Islamabad. She wrote this collection of family stories, foodways descriptions and recipes as a heartfelt means to an end–that is, keeping Pakistani food traditions alive. The book is inadequately edited (I'm a stickler for things like listing ingredients in the order which they're used), but it's a beauty to behold, with photos of rural scenes, table settings and completed dishes. Most of the recipes are easy to follow, but if you're a novice at such things as making samosa dough or deep-frying shaaker paras, consider taking one of Siddiqui's cooking classes to watch and learn (visit whitejasmine.com for a list of classes).
What I like best about Jasmine in Her Hair is how well it illustrates that foods–and other customs–considered alien by some are dearly familiar and deeply personal to others. Siddiqui's vignettes have a guileless, almost haunting tone, as she recalls everything from the choori wali (woman with bangles) fascinated by the contents of a refrigerator to the meaning of food and family in Pakistan.
***
Eat Smart in India(Ginkgo Press, 2004) is the latest in Joan Peterson's brainy food travel series (seven in all). Like her previous guides, it's small enough to slip into a carry-on and dense with wisdom about how to eat and drink like a local. Peterson and her Indian-born co-author, Indu Menon, neatly handle the history and development of a very complicated cuisine, provide useful food and phrase glossaries, and walk readers through the culinary regions of India dish by dish. Reviewed by Terese Allen.
***
Check out Everybody Loves Ice Cream (Emmis Books, 2004), written by Shannon Jackson Arnold, the former editor of Ohio magazine who now lives in Delafield, Wisconsin. Arnold is mad about America's favorite dessert. "In the beginning," she writes, "there was light. And then, on the eighth day, there was ice cream." That's one of several theories about ice cream's origins in this edifying romp through its history, lore and culinary pleasures. Arnold sees ice cream as a metaphor for the United States, embodying "a sense of democracy and pluralism, equal opportunity and a steadfast belief in the inalienable right to the pursuit of happiness."
In one section, she defines a full array of frozen treats."The beauty of ice cream is that it's as unique, varied and ethnically rich as we are as a society." Another chapter is a guide to regional specialties–like Wisconsin's beloved frozen custard–and the country's best ice cream shops. There's lots of technical fun, too, including the ten commandments of making excellent ice cream ("Thou shalt put only chilled ingredients into the ice cream maker") and how to make ice cream from snow, plus recipes from vanilla ice cream to stracciatella gelato.
One hole in Everybody Loves Ice Cream is its lack of an index. If you're looking for something specific, say, how to select the best ice cream maker or a recipe for peach frozen yogurt, you'll have to cross your fingers and slog through the appropriate chapter. There is, however, a recipe index to the book on Arnold's web site (www.everybodylovesicecream.com), along with ice cream facts, links and upcoming events. Reviewed by Terese Allen.
***
The Other Side of Russia. Reviewed by Joan Peterson, Ph.D. and author of EAT SMART series. "Foodies in particular will relish award-winning author Sharon Hudgin's magnificiently rich book about Siberia and the Russian Far East, The Other Side of Russia published by Texas A&M University Press (ISBN 1-58544-404-9). Teaching assignments took Sharon and her husband, Tom, to Asian Russia in 1993 as part of a new program established by University of Maryland University College. This book is an engaging personal narrative about life in the challenging early years following the fall of communism. The author discusses in fascinating detail her social, political and economic environment, but she is at her very best when recounting her extraordinary culinary experiences with Russian friends. Dinners, by necessity often pot-luck, were cobbled together under difficult and often harsh conditions. Ingredients were obtained piecemeal from numerous shops and vendors, following rumors of availability, and with luck were purchased after tedious waits in long lines. All goodies had to be trudged up many flights of stairs, typically in tall concrete apartment monstrosities with defunct elevators. Rarely were basic amenities—water, electricity and heat—simultaneously available for the comfort of the guests. Despite the hardships, the meals were amazingly sumptuous. This engrossing, informative book is a valuable resource and a great read."
***
A Literary Feast: Recipes and Writings by American Women Authors from History. Reviewed by Terese Allen. "The book takes a unique approach to culinary history: it juxtaposes nineteenth-century recipes with passages about food preparation and dining from literature written by women of the time. By pairing the "food-talk" of women's literature with recipes, A Literary Feast, authored by Yvonne Schofer offers an entertaining and illuminating way to experience the culture of a by-gone era." See full review here, a version of which appeared in the Milwaukee Journal-Sentinal, October 22, 2003.
***
Bread and Oil: Majorcan Culture's Last Stand. Reviewed by Terese Allen. "The most effective culinary escapes are not just recipe collections; they incorporate memoir or travel stories, history or even social commentary. Take Bread and Oil: Majorcan Culture's Last Stand, by Tomás Graves, which has all of the above. This new release from University of Wisconsin Press is the English edition of a work first published in Catalan, Majorca's major language. Written by the son of British poet and classicist Robert Graves (of I, Claudius fame), Bread and Oil has the makings of a fine novel: a strong sense of place, a genuine voice, vibrant characters and a metaphoric focus." Read the full review in Word format here.
***
Pickled Herring and Pumpkin Pie. Reviewed by Terese Allen. "In Jack Finney's classic time-travel novel, Time and Again, the protagonist immerses himself in the study of a bygone era, 19th-century New York. By saturating his consciousness with its culture, language, objects and scenery–by becoming one with the environment of the past–he finds himself literally "there." It's an arresting notion, one that I very much wished were true recently as I pored through Pickled Herring and Pumpkin Pie, the 2002 reprint of a nineteenth-century German cookbook that was adapted for German immigrants to America. (Pickled Herring and Pumpkin Pie is a project of the University of Wisconsin's Max Kade Institute for German American Studies and is distributed by University of Wisconsin Press.) Wouldn't it be great, I thought, as I read about turn-of-the-century specialties like potato dumplings, herring salad and eel soup, if recreating the smells and flavors of historical recipes could transport you there? The book is so vividly authentic it almost seemed possible." Read the full review in Word format here.
***
America's Kitchens by Nancy Carlisle and Melinda Talbot Nasardinov. Reviewed by Joan Peterson. This is a compelling homage to the beloved room within the home that is central to our lives in so many respects. The authors recount the history of the kitchen in American life in six time segments covering over four hundred years and encompassing much of the country from New England to the Rio Grande. The book is the second in the remarkable Historic New England series of titles presented by the Society for the Preservation of New England Antiquities. It is so richly embellished with paintings, photographs and historic drawings that one might want to begin what will surely be a nostalgic exploration of the topic by first perusing the visual images and many captions and sidebars before settling in to read the informative text, while at the same time savoring the inevitable flashbacks of special moments that were spent in our own kitchens in the past. Pub info: Historic New England, Boston, 2008. ISBN: 978-0-88448-308-3.
***