Please join us for CHEW meetings at 7:15 pm  on the first Wednesday of the month (except August). Unless otherwise noted, they are held at the Goodman Community Center, 149 Waubesa St, Madison, WI. CHEW meetings are free and open to the public; they feature invited speakers, lively discussions, food demonstrations, free samplings and more. Scroll down for info about meetings, membership, the newsletter and the CHEW library.
Coming Up Next:
Wed., February 7, 2018, 7:15 pm. "An Introduction to Regional Chinese Cuisine," presented by Terry Tao and Junyi Ma.
China is a vast country with a long history, a land of incredibly diverse food cultures that developed over centuries in its many regions. This talk will introduce key characteristics of Chi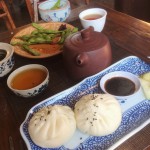 nese regional cuisines, emphasizing their geological and historical origins. Attendees will learn what to expect when choosing a Chinese restaurant, and will gain a deeper understanding of Chinese history and culture.
Junyi Ma is a senior scientist at Cellular Dynamics International in Madison. He worked previously at the University of Texas's MD Anderson Cancer Center. Junyi is the current president of Madison Chinese Culture Organization (MACCO). Terry Tao serves as a board member of MACCO. Terry works at UW Extension – Continuing Education, Outreach and E-learning. He works on distance education online courses
Future Programs
Wed, March 7, 2018, 7:15 pm. "Historic Wisconsin Barns," presented by Wisconsin Historical Society historian Jim Draeger.
Wed., April 4, 2018, 7:15 pm. "More than Bacalhau: A Short Culinary History of Portugal," presented by authors Joan Peterson and Ronnie Hess.
***
Membership –  For info about why and how to join CHEW, click here.
Newsletter – To receive our email newsletter, send us a note at chewwisconsin@gmail.com
Meeting Place and Time – Unless otherwise noted, they are held at 7:15 pm at the Goodman Community Center, 149 Waubesa St, Madison, Wisconsin. Please check the monthly meeting details (above).
If you're coming to the meeting, why not bring some nonperishable food items to donate to the Goodman Community Center food pantry! Financial donations also welcome.
CHEW Library – One advantage of coming to a monthly CHEW meeting is access to CHEW's traveling library. Our collection totals almost 60 titles, ranging from the esteemed Ovens of Brittany Cookbook to Near a Thousand Tables: A History of Food. To peruse all the book titles in our library, click Culinary. You can put in an "order" for a specific book by emailing chewwisconsin@gmail.com.  The book will be brought to the next meeting (if it hasn't already been checked out). Several titles will also be featured at each meeting–you'll hear a short review and will have the opportunity to check one of the featured titles out for a month.