Please join us for CHEW meetings at 7:15 pm  on the first Wednesday of the month (except August). Unless otherwise noted, they are held at the Goodman Community Center, 149 Waubesa St, Madison, WI. CHEW meetings are free and open to the public; they feature invited speakers, lively discussions, food demonstrations and more. Scroll down for info about meetings, membership, the newsletter and the CHEW library.
Coming Up Next:
Wed., Oct. 4, 2017, 7:15 pm. "The Life and Times of Carson Gulley," presented by UW Madison professor Scott Seyforth.
Though now largely forgotten, UW-Madison chef Carson Gulley was a celebrated figure in the mid-twentieth century known for his groundbreaking efforts crossing racial barriers as a culinary instructor, radio & television celebrity chef, and a pioneer in the local struggle for equal housing. Gulley used his fame to engage in a series of efforts, some but not all of them successful, to achieve equal standing in Madison and the state. The story of his life provides e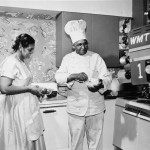 xamples of the persistent practices of segregation and exclusion that African Americans actively challenged in mid-twentieth-century Wisconsin. His is an important part of the still untold story about African Americans in Madison, especially as it pertains to the obstacles African Americans encountered and overcame as they tried to build a good life and participate in the American Dream in this city and state.
Scott Seyforth holds a PhD in Educational Leadership and Policy Analysis from the University of Wisconsin-Madison. He is in his 21st year of work in University Housing where he is an Assistant Director of Residence Life. For the past 15 years he has taught as an adjunct professor at the University of Wisconsin-Madison and at the University of Wisconsin-Whitewater. Since 2007 Seyforth has been actively involved in collecting and archiving the history of the local LGBTQ community. He is one of the founders of the Madison LGBTQ Oral History Project and the Madison LGBTQ Archive at the UW-Madison Archives. 
Future Programs
Wed., Nov. 1, 2017, 7:15 p.m. "Back to the Land. Again," presented by James Beard Award winner and founder of L'Etoile Restaurant Odessa Piper.
Wed., Dec. 6, 2017, 7:15 pm. "The History of Women in American Agriculture," presented by author, farmer, activist and innkeeper Lisa Kivirist.
***
Membership –  For info about why and how to join CHEW, click here.
Newsletter – To receive our email newsletter, send us a note at chewwisconsin@gmail.com
Meeting Place and Time – Unless otherwise noted, they are held at 7:15 pm at the Goodman Community Center, 149 Waubesa St, Madison, Wisconsin. Please check the monthly meeting details (above).
If you're coming to the meeting, why not bring some nonperishable food items to donate to the Goodman Community Center food pantry! Financial donations also welcome.
CHEW Library – One advantage of coming to a monthly CHEW meeting is access to CHEW's traveling library. Our collection totals almost 60 titles, ranging from the esteemed Ovens of Brittany Cookbook to Near a Thousand Tables: A History of Food. To peruse all the book titles in our library, click Culinary. You can put in an "order" for a specific book by emailing chewwisconsin@gmail.com.  The book will be brought to the next meeting (if it hasn't already been checked out). Several titles will also be featured at each meeting–you'll hear a short review and will have the opportunity to check one of the featured titles out for a month.