Please join us for CHEW meetings at 7:15 pm  on the first Wednesday of the month (except August). Unless otherwise noted, they are held at the Goodman Community Center, 149 Waubesa St, Madison, WI. CHEW meetings are free and open to the public; they feature invited speakers, lively discussions, food demonstrations, free samplings and more. Scroll down for info about meetings, membership, the newsletter and the CHEW library.
Coming Up Next:
Wed., Dec. 6, 2017, 7:15 pm. "The History of Women in American Agriculture," presented by author, farmer, activist and innkeeper Lisa Kivirist.
What's the key ingredient to healthy communities? Women leading food-system change.   Women make up one of the fastest growing segments of new farmers today. They come from a long, deep history and tradition of cultivating the soil. This fresh crop of w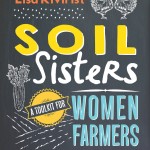 omen farmers is finding innovative ways to champion local agriculture and foster greater collaboration and cooperation. Collectively, they improve the health of our environment, stimulate the economy, build a greater sense of community and nurture a more vibrant food system. What does our future hold and how can we support more women taking leadership roles to change what's on our plate?  Tonight, author Lisa Kivirist, author of Soil Sisters: A Tool Kit for Women Farmers, will celebrate the historic roots and inspiring stories of women farmers today and in the future. The evening will include a book signing, and a selection of Lisa's bakery, canned goods and farm-fresh produce will be for sale.
Lisa Kivirist is a Senior Fellow, Endowed Chair in Agricultural Systems for the Minnesota Institute for Sustainable Agriculture at the University of Minnesota. She is the author of the award-winning book, Soil Sisters: A Toolkit for Women Farmers, and co-author, with her husband, John Ivanko, of Homemade for Sale, Farmstead Chef, ECOpreneuring and Rural Renaissance. Recently, as part of a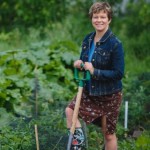 team of "soil sisters," Lisa won a legal case against the State of Wisconsin and as a result, Wisconsinites are now allowed to sell baked goods from home operations. Lisa and her family run Inn Serendipity Farm and B&B in Wisconsin, completely powered by the wind and sun.
Future Programs
Wed., January 3, 2018, 7:15 pm. "Sicilian Loves: A Story of Food and Family," presented by Benedict Di Salvo.
Wed., February 7, 2018, 7:15 pm. "Regional Chinese Cuisine," presented by Terry Tao and Junyi Ma.
Wed, March 7, 2018, 7:15 pm. "Historic Wisconsin Barns," presented by Wisconsin Historical Society historian Jim Draeger.
Wed., April 4, 2018, 7:15 pm. "More than Bacalhau: A Short Culinary History of Portugal," presented by authors Joan Peterson and Ronnie Hess.
***
Membership –  For info about why and how to join CHEW, click here.
Newsletter – To receive our email newsletter, send us a note at chewwisconsin@gmail.com
Meeting Place and Time – Unless otherwise noted, they are held at 7:15 pm at the Goodman Community Center, 149 Waubesa St, Madison, Wisconsin. Please check the monthly meeting details (above).
If you're coming to the meeting, why not bring some nonperishable food items to donate to the Goodman Community Center food pantry! Financial donations also welcome.
CHEW Library – One advantage of coming to a monthly CHEW meeting is access to CHEW's traveling library. Our collection totals almost 60 titles, ranging from the esteemed Ovens of Brittany Cookbook to Near a Thousand Tables: A History of Food. To peruse all the book titles in our library, click Culinary. You can put in an "order" for a specific book by emailing chewwisconsin@gmail.com.  The book will be brought to the next meeting (if it hasn't already been checked out). Several titles will also be featured at each meeting–you'll hear a short review and will have the opportunity to check one of the featured titles out for a month.