Please join us for CHEW meetings at 7:15 pm  on the first Wednesdays of the month. Unless otherwise noted, they are held at the Goodman Community Center, 149 Waubesa St, Madison, Wisc.

CHEW meetings are free and open to the pubic. Scroll down for info about meetings, membership, the newsletter and the CHEW library.
Coming Up Next:
Wednesday, June 7, 2017, 7:15 pm, "Good Seeds: A Menominee Food Memoir," presented by Tom Pecore Weso.
Raised in the big, multigenerational home of his matriarch grandmother and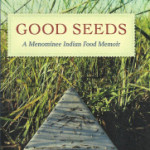 medicine-man grandfather, Tom Weso grew up eating, hunting, gathering and growing traditional foods along with modern fare. Weso brings multiple perspectives as anthropologist, artist, Menominee Indian, family member and cook in his book, Good Seeds, published in 2016 by the Wisconsin Historical Society Press. Tonight we'll hear culinary and cultural tales from Weso and taste specialties from his book. The presentation will be followed by a book signing.
Thomas Pec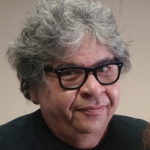 ore Weso is an enrolled member of the Menominee Indian Nation of Wisconsin and has a master's degree in Indigenous Studies. He teaches social sciences at Kansas City Kansas Community College and is a speaker for the Kansas Humanities Council's program, "Talk about Literature. " Weso is also co-publisher of Mammoth Publications and an artist whose work is in collections throughout the Kansas City area.
Please join us for CHEW meetings at 7:15 pm  on the first Wednesdays of the month at the Goodman Community Center, 149 Waubesa St, Madison, WI.
Future Programs
Wednesday, July 5, 2017. Annual CHEW Members-Only Potluck. 6 pm. Threshold, 2727 Atwood Ave. Theme: Herbs in History. Join CHEW today to attend this special event. See membership info below.
No meeting in August. Happy summer!
***
Membership – Please see Treasurer Char Thompson at the next meeting to renew or become a member. Or send a check made out to CHEW, along with your name, email address, postal address and phone number, to: CHEW c/o Char Thompson, 2716 Gregory Street, Madison WI, 53711. Why should you join? Lots of reasons!! For more info about membership, click here.
Newsletter – To receive our email newsletter, just send us a note at chewwisconsin@gmail.com
Meetings – Meeting place and time: click here. Depending on speaker/topic, location can vary, please check the monthly meeting details for location if different than the Goodman Community Center.
If you're coming to the meeting, why not bring a nonperishable food item to donate to the Goodman Center food pantry!  The Center is giving out food as fast as it can take it in and the need has never been greater. Items needed: tuna, beans, shelf-stable milk, juice, canned fruits & vegetables, macaroni & cheese, peanut butter, cereal, infant formula, baby food, diapers, soup (not tomato), rice, can openers. Financial donations also welcome.
***
CHEW Library – One advantage of coming to a monthly CHEW meeting is access to CHEW's traveling library. Our collection totals almost 60 titles – ranging from the esteemed Ovens of Brittany Cookbook to Near a Thousand Tables: A History of Food. We have copies of the books written by virtually every guest speaker we have had in the last ten years, e.g.,  Putting Down Roots: Gardening Insights from Wisconsin's Settlers by Marcia Carmichael, chief gardener at Old World Wisconsin; Kathleen Kline's People of the Sturgeon: Wisconsin's Love Affair with an Ancient Fish, and Cluck: From Jungle Fowl to Chicks by Susan Troller. To peruse all the book titles on the CHEW web site, click Culinary. You can put in an "order" for a specific book by emailing chewwisconsin@gmail.comand the book will be brought to the next meeting, if it hasn't already been checked out. Several titles will also be featured at each meeting–you'll hear a short review and will have the opportunity to check one of the featured titles out for a month. We are happy to provide this personal service.