Please join us for CHEW meetings at 7:15 pm  on the first Wednesday of the month (except August). Unless otherwise noted, they are held at the Goodman Community Center, 149 Waubesa St, Madison, WI. CHEW meetings are free and open to the public; they feature invited speakers, lively discussions, food demonstrations and more. Scroll down for info about meetings, membership, the newsletter and the CHEW library.
Coming Up Next:
Wed., Sept. 6, 2017, 7:15 pm. "Foodways on Three Continents, presented by Laurie Beth Clark and Michael Peterson.
Over the past two years, Madison-based arts group Spatula&Barcode has conducted three versions of the social art project, Foodways, in Europe, Australia, and North America. Each Foodways project develops unique approaches to working within a community to explore how they "do food." This talk will recap the projects and pose questions about how we understand how we "do food."
In Darmstadt, Germany, the project focused on the physical movement of foods, and resulted in community mapping, a "vegetable parade," and a day-long "distributed symposium" that took participants around the district to interact with food people in a wide range of roles. In Melbourne, Australia, Foodways focused on food narratives and language, and Spatula&Barcode collected hundreds of pieces of food language that were activated in dozens of activities from student performances to dozens of lunches arranged between locals and foreign visitors. Last summer, the group launched Foodways Madison, with a focus on "food systems" that structure our local foodways.

Spatula&Ba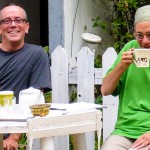 rcode is a "social practice" arts group founded by Michael Peterson and Laurie Beth Clark in 2008. Every Spatula&Barcode project explores hospitality, place, and critical thinking, and usually involves food and some structure of gift exchange. Clark and Peterson are both professors in the Art Department at the University of Wisconsin. More about their work can be found at: http://spatulaandbarcode.net/.

Future Programs
Wed., Oct. 4, 2017, 7:15 pm. "The Life and Times of Carson Gulley," presented by University of Wisconsin professor Scott Seyforth.
Wed., Nov. 1, 2017, 7:15 p.m. "Back to the Land. Again," presented by James Beard Award winner and founder of L'Etoile Restaurant Odessa Piper.
Wed., Dec. 6, 2017, 7:15 pm. "The History of Women in American Agriculture," presented by author, farmer, activist and innkeeper Lisa Kivirist.
***
Membership –  For info about why and how to join CHEW, click here.
Newsletter – To receive our email newsletter, send us a note at chewwisconsin@gmail.com
Meeting Place and Time – Click here. Location can vary, please check the monthly meeting details (above).
If you're coming to the meeting, why not bring some nonperishable food items to donate to the Goodman Community Center food pantry! Financial donations also welcome.
CHEW Library – One advantage of coming to a monthly CHEW meeting is access to CHEW's traveling library. Our collection totals almost 60 titles, ranging from the esteemed Ovens of Brittany Cookbook to Near a Thousand Tables: A History of Food. To peruse all the book titles in our library, click Culinary. You can put in an "order" for a specific book by emailing chewwisconsin@gmail.com.  The book will be brought to the next meeting (if it hasn't already been checked out). Several titles will also be featured at each meeting–you'll hear a short review and will have the opportunity to check one of the featured titles out for a month.