May 7, 2014 - "Ho, Ho, Ho and A Bottle of Rum," presented by Cynthia Clampitt
Ever wonder why rum is associated with those pirates of the Caribbean?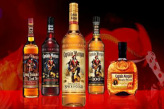 Food historian Cynthia Clampitt shares the reason rum arose where it did and when it did, and considers its connection with coffee, tea, and chocolate. She also explains why rum was one of the issues that led to the American Revolution, and how it affected culture and history after that.
Cynthia Clampitt is a writer, geographer, and food historian who has written textbooks for every major educational publisher in the U.S. She recently completed work on a book on the history of corn in the Midwest for the University of Illinois and is currently working on a book of international food history. She is the author of the award-winning travel narrative, Waltzing Australia—and it was in Australia that she first became aware of the international impact of the rum trade.
Please join us 7:15 pm at the Goodman Community Center, 149 Waubesa St, Madison, WI.
***
Coming to the CHEW meeting?  Why not bring a nonperishable food item to donate to the Goodman Center food pantry!  The Center is giving out food as fast as it can take it in and the need has never been greater. Items needed: tuna, beans, shelf-stable milk, juice, canned fruits & vegetables, macaroni & cheese, peanut butter, cereal, infant formula, baby food, diapers, soup (not tomato), rice, can openers. Financial donations also welcome.
***
Future Programs
June 4, 2014 – "Ovens on the Edge: How the First European Colonists Baked Bread," presented by Paula Marcoux

The author of a new book, Cooking with Fire: From Roasting on a Spit to Baking in a Tannur, Rediscovered Techniques and Recipes That Capture the Flavors of Wood-Fired Cooking,  explores the earliest colonial baking, revealing how folks deployed a range of strategies and adapted their technologies, and ultimately their expectations, to local conditions. Samples from Marcoux's book will be served, and a book signing will follow her presentation.
Paula Marcoux is a food historian who lives in Plymouth, Massachusetts; she has worked professionally as an archaeologist, cook and bread-oven builder. She is the food editor of Edible South Shore magazine, writes on food history topics for popular and academic audiences, and consults with museums, film producers, and publishers.
Please join us 7:15 pm at the Goodman Community Center, 149 Waubesa St, Madison, WI.
***
Membership - To be come a member of CHEW click here
Newsletter – to receive our email newsletter, just send us a note at chewwisconsin@gmail.com
Meetings – Meeting place and time, click here. Depending on speaker/topic, location can vary, please check the monthly meeting for location if different than the Goodman Community Center.
CHEW Library - One advantage of coming to a monthly CHEW meeting is access to CHEW's traveling library. Our collection totals almost 60 titles – ranging from the esteemed Ovens of Brittany Cookbook to Near a Thousand Tables: A History of Food. We have copies of the books written by virtually every guest speaker we have had in the last ten years, e.g.,  Putting Down Roots: Gardening Insights from Wisconsin's Settlers by Marcia Carmichael, chief gardener at Old World Wisconsin; Kathleen Kline's People of the Sturgeon: Wisconsin's Love Affair with an Ancient Fish, andCluck: From Jungle Fowl to Chicks by Susan Troller.To peruse all the book titles on the CHEW web site, click Culinary. Even better, you have the opportunity to check out any of our books at a CHEW meeting! You can even put in an "order" for a specific book. Winter weather makes it difficult to transport all books to each meeting; therefore, we will rotate bringing half of the collection to each meeting.  Authors A – H will be brought to the February meeting and Authors I – Z will be brought to the next meeting. If you have a burning desire for a particular book, just email chewwisconsin@gmail.com and the book will be brought to the next meeting, if it hasn't already been checked out. We are happy to provide this personal service.